William W. Ellis, MD, FACC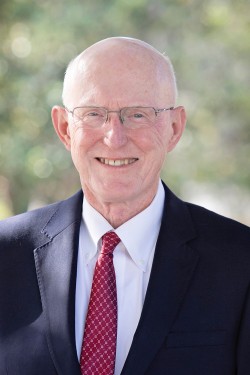 William W. Ellis, MD, FACC
---
About:
William W. Ellis, M.D.received his BS in Biology from Southwestern at Memphis in Memphis, TN and then graduated from the Medical College of Georgia in Augusta in 1972. He completed his Internship and Internal Medicine Residency at Royal Victoria Hospital in Montreal, Quebec, Canada. His Cardiovascular Fellowship was completed in 1982 at Vanderbilt University Hospital, Nashville, TN.
Dr. Ellis has been practicing cardiology in Thomasville, Georgia since 1983. Under his leadership, Archbold Hospital expanded its cardiology services and opened its first cath lab in 1983 for which he served as the Director. Dr. Ellis is board certified in Internal Medicine and Cardiovascular Disease with subspecialty certification in Nuclear Cardiology. As well as serving his patients in Thomasville, Dr. Ellis sees patients at specialty clinics in Bainbridge, Cairo, Quitman and also in Camilla where he grew up.
He has served on the Board of Directors and various committees at Archbold Hospital and is also a Fellow of the American College of Cardiology. He is a member of the America Society of Echocardiography and the American Society of Nuclear Cardiology.
Dr. Ellis was a participant of the C-PORT trial which was published in The New England Journal of Medicine in 2012. The C-PORT trial compared the clinical outcomes of Percutaneous Coronary Intervention (also known as coronary angioplasty) performed at hospitals with access to on-site cardiac surgery with outcomes of PCI performed at hospitals without such access. This trial paved the way for PCIs to be performed at facilities such as Archbold. As a result of this study many lives have and continue to be saved as thousands of patients can receive local treatment in a timely manner.
Dr. Ellis has special interests in Arrhythmias, heart health and wellness, congestive heart failure and vascular heart disease. He established Cardiology Consultants of South Georgia in 1983 and now with over 37 years of cardiovascular practice, Dr. Ellis continues to appreciate the high quality of the providers at what is now known as Cardiovascular Consultants. He values the commitment of providers, nurses and office personnel to work as a team and put the patient first and hopes that patients can describe the practice as "a place I like to go."
Dr. Ellis enjoys spending time with his wife, three daughters and four grandchildren, going to his farm in Barwick, horses, and the sport of cutting.
---
College
Southwestern at Memphis, Memphis, TN
Medical School
Medical College of Georgia
Internship
Royal Victoria Hospital, McGill University
Residency
Royal Victoria Hospital, McGill University
Fellowship
Vanderbilt University Hospital, Nashville
Cardiovascular Disease
Board Certified, American Board of Internal Medicine
Internal Medicine
Board Certified, American Board of Internal Medicine
Nuclear Cardiology
Board Certified, American Society of Nuclear Cardiology